Below are the books and websites that I've come back to time and again through 10-15 years of building websites. Aiming to refresh and expand all the time, but that said, the fundamentals rarely change that much, even with new hardware like a touchscreen or a different size device – our fingers, eyes and habits change a lot slower, after all.
Steve Krug
"Don't Make Me Think"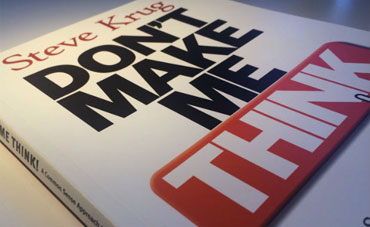 came out in 2000, and with Jakob Nielsen (below) was one of the foundations of usability awareness and practice for me, and I suspect most people working in digital (then called "the web") around then. Lots of humour and great examples, which he updated in 2014 to reflect technology changes over the past few years.
As you'd hope for, its appeal is a comprehensive set of principles (rather than rules) based on making things simple and clear, viewed from the user's perspective. The best illustration of its success is that the book itself is thin, easy to digest, and therefore usable in and of itself.
Jakob Nielsen
The other Godfather of UX, Nielsen has publishing how-tos on his Alertbox since 1995, in addition to research reports with the NN Group and books including Designing Web Usability and Mobile Usability.
The Alertbox articles are nearly always clear and concise, with everything based on extensive research with real users, including illustrated examples. One drawback of this approach, at least in the books and reports, is that everything is documented, which sometimes means a lot of wading through detail to get to the point or conclusion.
A List Apart
Moving across a little to also cover content, design and front-end coding, A List Apart updates more or less weekly with articles from experts around the globe and in a number of specialisations – with generous case studies and examples. As a side note, the site itself is beautifully designed and coded, with the added bonus of unique illustrations by Kevin Cornell.
456 Berea St
When I was living in London and teaching myself how to code properly, 456 Berea St (by Roger Johansson, based in Sweden) was a great resource for learning and solving problems. His code and approach are always elegant, concise and well-structured, but also practical. He seems to have only started blogging again the last few months after a 3-year break, so hopefully there will be a lot of material backed up for the future.
… and my latest books
Having recently both gotten book vouchers and joined the Sydney UX Book Club, I'm reading more than I have in a while. Recent conquests include:
Hooked, by Nir Eyal – how we can make applications addictive, for good or evil, using a streamlined 4-part model
Creativity, Inc, by Ed Catmull – overview of how creativity was managed and promoted at Pixar and later, Disney – excellent diversion from the usual management platitudes in that it focuses on how a creative (or rather, diverse) team works and interacts
AboutFace: The Essentials of Interaction Design – partway through at time of writing: a comprehensive, comprehensive detailing of pretty much every step in the journey building digital. It seems that I didn't know everything after all!